Relaxing in the hot tub with a glass of wine at the end of a hectic week is the best way to let off some steam. This can re-energize, reduce your stress, and make you ready for another hectic week of work and home chores.
Having a hot tub is no more a luxury; it is a need to ensure that you take some time for self-care. But just as you would take the utmost care of yourself, make sure you take care of your hot tub water too. You need to ensure that you take some time for efficient hot tub spa water maintenance. 
But do you know the steps for effectively maintaining your hot tub water? If not, don't worry! We have got you covered. In this blog post, we will tell you three crucial steps that will help you maintain your hot tub water in the best condition and always ready to use.
Effective Circulation of Hot Tub Water
Circulating the hot tub water is essential to keep it clean for longer. This allows your hot tub to keep any contaminants away from the water. This is achieved by running a circulation cycle of 15-20 minutes where the water passes through the cartridge filters of your hot tub. Some hot tubs have an automatic function whereas others might need manual scheduling of water circulation. Don't hesitate to put the hot tub filters to use. They are installed in the hot tub as part of the cleaning function. And the more you circulate the water, the cleaner it will be for a long time.
Create a Hot Tub Cleaning Schedule
Indoor and outdoor hot tubs, both need to be cleaned at least weekly. You can do so by using the highest quality hot tub cleaning products. Follow the instructions on the hot tub cleaning products for efficient cleaning. To avoid any debris or contaminants, cover your hot tub water. Make sure you have filter cleaning on the schedule too. Clean filters will ensure that you have a smooth circulation of water. Remember to also replace the hot tub spa water every three to four months.
Maintain Hot Tub Water Chemistry Balance
It is important to maintain the hot tub water chemistry by using the right hot tub chemicals, with help from SpaSolution®. SpaSolution® maintains the pH automatically provided the alkalinity is between 80 and 120. You will also use a sanitizer and/or shock to kill bacteria.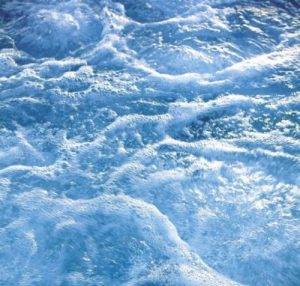 You may also have a de-foamer if your hot tub water gets foamy. Use test strips to ensure that all levels are balanced.
If you want to use near chemical free spa cleaning products, can check out our range of SpaSolution® products. Developed with an effective enzyme treatment formula, our products are completely natural and eco-friendly. They are 100% safe for humans, animals, and plants. With our SpaSolution® range of chemical-free spa products, you can keep your hot tub water clean for more than 3 months. Check out the range now to know more.