Having a nearly chemical free hot tub water is a blessing. Not only are you protecting yourself from skin rashes and issues, but you are also protecting the nearby flora and fauna from chemical effects. 
But does your responsibility as a hot tub owner end here? Don't you think you have an extra responsibility to make the hot tub usage safe for yourself and your companions? Of course, you do! Sure, getting the right water temperature and level is one of those safety measures to ensure that the experience is hassle-free and comfortable. But there are other safety measures you should take too.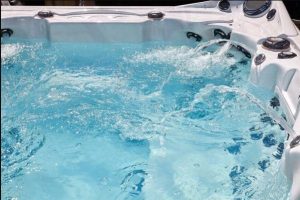 Maintaining your hygiene in the hot tub is crucial to ensure that everyone has a clean experience. Our bodies release a lot of oils and fluids which can cause debris build-up. This will make the water unhygienic. Hence, make sure that you bathe before and after you use the hot tub to ensure cleanliness. Moreover, if you have an injury or are unwell, don't use the hot tub for a few days until you feel better. Also, don't forget to use your chemical free hot tub cleaner periodically. 
Time Duration to Stay in the Hot Tub
Now, we know that sitting in the hot tub for hours after a hectic day will be so tempting. But make sure you don't fall prey to this temptation. The ideal soaking time in the hot tub must be between 15-30 minutes. This will help you feel refreshed rather than exhausted by the heat. So, limit your time duration. 
We all have the desire to soak in the hot tub while drinking our favourite wine or beer. But limit your alcohol consumption while in the hot tub. Heat amplifies the effect of alcohol which can turn bad very quickly. Also, you shouldn't spill alcohol in the hot tub water as this can alter the pH of the water.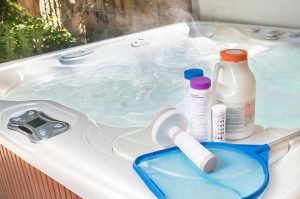 When people get in and out of the hot tub, water can spill on the sides making the surface slippery. To avoid falls, install handrails on the sides of the hot tub for people to safely get out or in. All the outlet openings must be properly covered to avoid injuries due to suction. If you have long hair, make sure to tie them. But if you leave them open, don't go underwater. You might get sucked into the underwater outlets causing fatal injuries. 
Once you have taken these safety measures, using a hot tub can be an enjoyable experience. At SpaSolution®, we want all hot tub owners to have a safe experience. Not just with our chemical free hot tub treatment product range, but with the right advice and suggestions to users. 
Connect with us to know more.