Are you looking to buy a hot tub for your house or vacation rental? If you are like any other hot tub buyer, you might have already seen plenty of hot tub options on the market with different features. Moreover, you might have also come across different ways to clean your hot tub such as using either chemical hot tub cleaning or a chemical free hot tub cleaner products.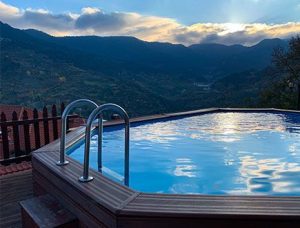 No matter the type of hot tub you choose and the method of cleaning the hot tub water, there are always a few health concerns that buyers have before buying the hot tub. In this blog, we will take a look at those health concerns and separate fact from fiction. 
Health Concern#1: You may get a disease by using a hot tub
Several hot tub buyers are concerned about catching some disease from hot tub water. And yes, bacteria or viruses can be found in your hot tub water. However, it is possible only if you don't follow the right hot tub water cleaning routine. However, you have chlorine or natural hot tub water conditioner sanitizers made specifically to kill any viruses, bacteria, algae, or mould in the hot tub water. This keeps the water clean and ready to use without the risk of diseases. 
Health Concern#2: Hot tub water can burn your skin. 
This is absolutely not true. The ideal temperature of your hot tub water must always be set between 101 to 102 degrees Fahrenheit.  The maximum temperature should be around 104 degrees Fahrenheit. Most hot tubs come with an built-in thermometer displaying the temperature of the water. And most modern hot tubs will have the feature to limit the maximum temperature to 104 degrees Fahrenheit. The temperature won't go above this temperature limit. So, you can rest assured that the hot tub water won't burn your skin. 
Health Concern#3: Hot tub water use is dangerous during pregnancy
Now, this health concern is completely valid and proven. So, if you are pregnant, this might not be the right time to buy a hot tub. Pregnant women mustn't be exposed to temperatures more than 101 degrees Fahrenheit to avoid any birth defects. Also, you must consult your doctor before using hot tub water.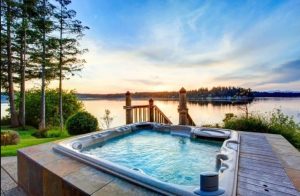 So, yes there are a few health concerns that hot tubs come with, and buyers may be skeptical about buying them. However, with the right care and preventative measures, using a hot tub can be a safe and enjoyable experience. If you want more tips and advice on using the hot tub effectively, you can check out the rest of our SpaSolution® website. We at SpaSolution® have developed a complete range of chemical free spa maintenance products. 
Combining the right advice from our experts and the right SpaSolution® product, you can get a fantastic hot tub experience. Keep reading through our website, and for more information contact our team now.