The holiday season is upon us! We all are looking for some awesome gifts for our loved ones to make their holiday season memorable. Now, you might think of giving the usual holiday gifts. However, why not gift them something unique that is not only useful but will also make them remember you fondly? This is especially true if your loved ones own a hot tub. For hot tub lovers, there are so many different new and unique holiday gift ideas you can choose from. Here are a few ideas for you.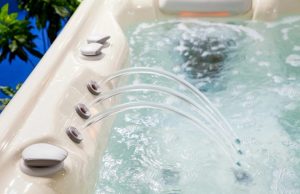 Nearly Chemical-Free Hot Tub Treatment
As a hot tub owner, they would always be concerned about keeping their hot tub water clean. They might even use chemical hot tub cleaners. Why not gift them nearly chemical free hot tub treatment products? Chemical free hot tub treatment products are made using natural ingredients such as natural enzymes that break down dirt, dust, and other hot tub polluting particles. You can gift them the whole package and help them make a sustainable choice moving forward. 
Unbreakable Plates, Glasses, and Trays
If your loved one has frequently invited you to a hot tub party, you know they would appreciate a gift that enhances the whole experience. You can gift them unbreakable plates, glasses, and trays. You can also gift them cloth napkins for an eco-friendly touch. While packing this up, add a few bottles of wine and you are good to gift the hamper! 
Aromatherapy oils and candles
Does your loved one have a busy lifestyle but loves soaking in their hot tub after a hectic day? If so, they would appreciate you gifting them aromatherapy oils and candles. They can now create a complete nearly chemical free hot tub water spa experience at home by lighting the candles for a glow and aromatherapy oils to soothe their body and mind.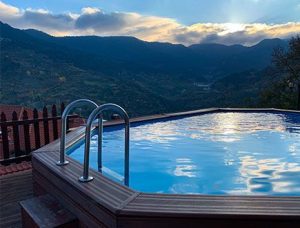 Monogrammed towels and robes
If your loved ones have kids, they will appreciate custom-made, monogrammed towels and robes to keep everyone cozy and warm after a hot water soak. With the towels and robes, you can add a few family-friendly and pool-friendly games, rubber ducks, play cards, and more. This will help you create an exciting family gift package. 
So, this holiday season, you can gift your loved ones who own a hot tub any one of the above holiday gift items. If you choose to gift them natural hot tub cleaner products, you can check out our complete range at SpaSolution®. We at SpaSolution® have developed a chemical-free hot tub treatment range that will help you keep the hot tub water clean for 3 months. We make hot tub water maintenance easy, long-lasting, and environmentally friendly. 
Contact us now to know more.